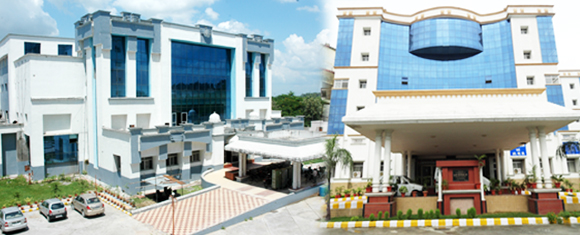 RMLIMS is not only an imposing Medical Institute built with bricks and mortars but it enshrines the patriotic fervor and progressive social thinking of great patriot, social thinker and freedom fighter Dr.Ram Manohar Lohia. It is a true reflection of the vision of Dr. Lohia and commitment of State Government to provide cutting edge medical care to needy, poor,down trodden, minorities, women, elderly and marginalized section of society at universal affordability. Govt of UP in its cabinet meetingheld under the chairmanship of Shri Mulayam Singh Yadav, the then Chief Minister of Uttar Pradesh took a groundbreaking decision on Sept.09, 2004 to strengthen and provide quantum upgradation to the medical facilities at Dr. RML Hospital, Lucknow with addition of specialized and super specialized medical departments which functioned in the heart of the city. It offered easy accessibility at the door step of the society at large. Soon, a detailed project report (DPR) was prepared to immortalize the decision but its implementation was differed for a much larger cause.The State cabinet meet of August 23, 2005 under the leadership of Shri Mulayam Singh Yadav ji resolved to establish Dr. RMLIMS as a super speciality medical institute having PG medical education, research and front line tertiary patient care as guiding force.It was conceptualized initially as a satellite center of SGPGI, Lucknow to make available the super specialty medical care within the precincts of the city. However, the State cabinet in its meeting on May 30, 2006 took a momentous decision to establish Dr RMLIMS as an independent Medical Institute of excellence and its bylaws were worked out which envisaged with a preamble that it will work on the analogous pattern of SGPGI, Lucknow in every respect. A memorandum of understanding was worked out to implement the decision of the cabinet and the Institute was registered under the Societies Registration Act 21,1860 bearing the Registration No. 1982 ,2006-07 ,dated 4th Nov 2006.Thus, Dr. Ram Manohar Lohia Institute of Medical Sciences, Lucknow came into being as an autonomous Medical Institute of U.P. Govt., established on the line of Sanjay Gandhi Post Graduate Institute of Medical Sciences, Lucknow. On 3rd June, 2006, Govt declared the Institute to be an independent society.
Chronology of Achievements & Milestones
Patient Services:
1
01.10.2010 - Regular Out Patient Services (OPD-I) started.
2
01.10.2010- Day Care Ward commenced its services
3
05.10.2010- 64 Slice CT Scan with State of the Art angiography facilitiescommissioned.
4
18.10.2010- Indoor Admissions and Indoor patient Services started.
5
18.10.2010- Ultrasonography, FNAC and biopsy facility made functional.
6
21.10.2010- Dialysis facility in Nephrology Department commenced.
7
01.02.2011- Pain Management Clinic started functioning as OPD facility.
8
05.03.2011- Advance Biochemistry facilities started.
9
19.05.2011- Female General Indoor Ward became functional.
10
09.08.2011- Cancer Indoor Ward started.
11
19.08.2011-Lithotripsy facility established in Urology department.
12
02.09.2011- Out Patient Department (OPD–II) started.
13
09.02.2011- Microbiology Department commences patient services.
14
09.10.2011- Fully equipped private wards started functioning.
15
10.10.2011- Advanced and Comprehensive Hospital Information System (HIS) encompassing every facet of the functioning of the institute established and integrated.
16
18.10.2011- Ultra Modern Cath Lab facility in cardiology department commissioned.
17
09.01.2012- State of the art Pathology & Cytopathology, Biochemistry facilities started functioning.
18
01.02.2012-Digital X-ray system with web compatible technology commissioned.
19
21.03.2012- Special initiative for senior citizens established.
20
06.07.2012- 3 Tesla MRI facility commissioned.
21
02.07.2012- 16 Slice CT-SIM with LASER positioning system along with auto processor facility integrated in Radiation Oncology.
22
15.09.2012- Round the clock emergency Pathology services started.
23
01.10.2012- CTVS indoor ward with comprehensive intensive care unit started functioning.
24
04.10.2012- Multi-energy Elekta Infinity LINAC commissioned for Cancer Radiation Therapy along with four numbers of Treatment Planning System, Image Archiving System and Mosaic record and verification system.
25
10.10.2012- mHDR (Ir-192) system for Brachytherapy along with Operation Theater equipped with C-armX ray integrated in Radiation Oncology.
26
01.11.2012- Modular OT( 3 & 4) with state of the art facilities were made functional.
27
04-01-2013; OPD drug store became functional for delivery of cost effective and quality medicines.
28
02.02.2013- Mammography X-ray System for early detection of Breast Cancer started functioning.
29
06.02.2013-Photo Dynamic Therapy (PTD) for specialized treatment of cancer using LASER guided drug interactive treatment commissioned.
30
25.03.2013-Advanced Single Photon Emission Computed tomography (SPECT-CT) for Functional& Physiological Imaging and Low Dose Nuclear therapy facility commissioned in Nuclear Medicine.
31
09.04.2013- Departments Pathology has been upgraded to "State Referral Centre for Lab Investigations (SRCLI)".
32
03.06.2013-Separate Neurology and Neuro Surgery ward bacame functional.
33
15.06.2013 -Advanced Medical Linear Accelerator, Elekta Synergy with IGRT, IMRT, SRS & SRT facilities commissioned for precision radiotherapy.
34
26.06.2013- High Dose Radioiodine ward commissioned with approval of AERB for Radionuclide therapy of Thyroid cancer and bone metastasis.
35
26.09.2013- a)Medical Linear Accelerator-ELEKTA Synergy system was dedicated to public.
b) "Adarsh Ward" for intensive care of Cardiovascular &Thoracic Surgery(CVTS) and Cardiology patients was inaugurated.
c) Emergency Pathology services for providing round the clock blood report for speedy patient care
d) Free food services to all the Indoor patients.